Are you dealing with cough and cold?
Don't pay 100% markups for OTC medications. We have the lowest OTC prices in town for all products compared to CVS, Wal-Mart, Costco, Walgreens, etc.
Let us help with your Medicare Part D decisions
Contact us today for help selecting the right plan for you!
Sign Up For Our Newsletter
Subscribe to our newsletter for seasonal promotions, health news and savings.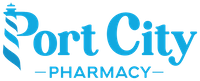 We'd Love to Hear From You
At Port City Pharmacy, we're committed to helping you live a healthier life. Our pharmacy staff would be happy to help you with any questions you may have.